TOP HR trends for 2021
Diving into industry news and trends in the first working days of the year helps you get in the mood for work and get inspired for new projects. The Assessment Systems team also decided to start the year by studying HR trends and international researches to come up with the Top 10 HR Trends for 2021. Let's quickly learn more about these trends.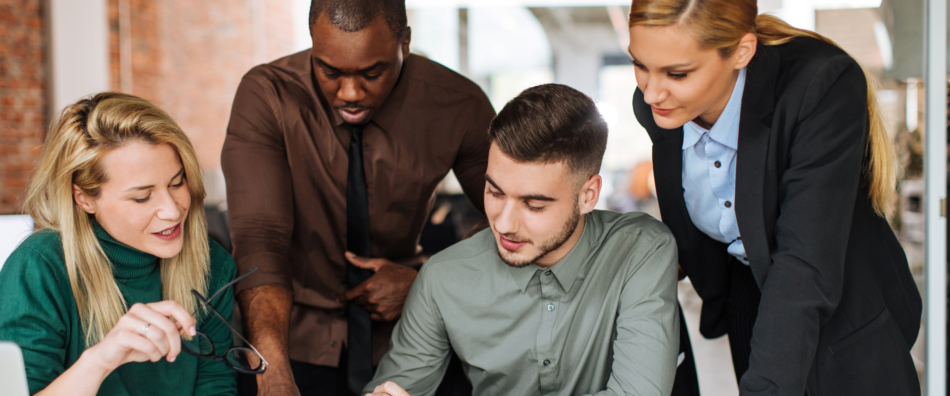 Employees well-being
Well-being programmes firmly entrenched in HR conferences 3 years ago. However, 2020 showed businesses how important it is to maintain physical and psycho-emotional health of employees. After all, the prosperity of the business itself depends on it. Over the past year, many companies purchased employee assistance programmes (EAPs) through which people can get advice from psychologists, lawyers, and medical professionals. The former HR VP of Unilever also stressed out that the team must now become a platform for psychological support and that it is normal to discuss emotions at work.
Super teams
Colleagues from the Deloitte company in their landmark study Global Human Capital Trends 2021 found out that the amount of work done in teams had doubled during the pandemic. That is because the team-based work is more adaptable to change and challenge than traditional divisions and departments. Deloitte also introduced a new term into HR vocabulary – super teams, which represents a co-creation of people and technology to quickly achieve business goals.
Ethical leadership
The pandemic has shown that it is not just business results that depend on the "captains" of the business, but also the lives of each employee. Darren Murph from GitLab and Dr. Frank Peter noted the importance of ethical leadership and cultivating trust within the company among HR trends for 2021. However, ethical leadership is complicated due to the fact that at the period of stress, managers often suffer from derailers that can destroy relationships with colleagues and subordinates.
Diversity
The term "diversity" implies a set of different professional and personal qualities that distinguish employees from one another. And diversity goes far beyond a traditional gender, age and nationality. Last year showed business leaders that looking at the problem from different angles helps to solve it more successfully. HRD of Dropbox notes that 2021 is the year of wholeness, inclusivity, culturally, regionally and competitively diverse workforce.
Data-driven HR
Predictive analytics and the artificial intelligence continue to dominate HR trends in 2021. The amount of HR data in companies continues to grow exponentially (if it is methodologically correctly collected and stored, of course). The data is real food for ever-improving machine learning algorithms that can provide tasty recipes for any managerial decision-making. Consequently, HR professionals must now speak the same language as data-science experts: set the analytical task, understand the limitations of analysis methods, and first and foremost interpret the results of the analysis.
Corporate communications
The transition to remote work, sick leaves, staff reduction and rotation – all these factors have reduced quality of communication in companies. According to a study by David Kirk, 99.5% of factors affecting employee satisfaction are directly related to the effectiveness of communication. If managers do not regularly communicate with their subordinates, do not give them feedback, then a black hole of communication gap grows in the company, which generates a lack of trust, a sense of alienation, and eventually a decline in results. HR managers are the ones who can be the center of communication expertise and provide managers with the tools and practices they need.
Hybrid office
Many employees experienced remote work during a period of self-isolation; for some, everyday life and work at home 24/7 became a challenge. However, leaders realized one thing – a flexible schedule is critical to staff well-being. HRD of Kaspersky is convinced that the HR trend 2021 for the union of new technologies with an individual approach to the employment of each employee would help businesses to stay competitive. That is why it is now important for every company to create its own model of a hybrid online and offline office, which would take into account particular needs of people and business.
Change management skills
The only constant we have is change. However, according to Gartner's research, 37% of managers lack change management skills. In a turbulent business environment, only agile leaders can be successful – visionaries with a proactive attitude, sensitive to changes inside and outside the company, who are able to adapt quickly to changing circumstances. They base their decisions on facts and analytics, but do not get stuck in them, but use them to move swiftly in the direction of the result. Also, agile leaders are open to feedback, are able to hear it, and draw consequences from mistakes.
Succession management
Colleagues at Gartner found out that only half of the employees trusted their leaders in the crisis management. Even though leadership and succession management have been at the top of HR trend rankings for 20 years, 35% of HR leaders believe succession management practices are ineffective. And at times of crisis, when the competency sets are constantly changing, identifying future leaders becomes an even more difficult process.
Employee experience
A third of HR leaders find a process of building employee experience strategies and evaluating a return of investment into them problematic. Indeed, marketing tools pervade not only employee engagement practices but also internal processes. Tools such as gamification, online assessment and development practices, and customized career tracks increase employees' intrinsic motivation and engagement, and consequently increase their performance while also play into the retention field.
Throughout the year, we will be tracking changes and the implementation of these trends. Stay tuned and keep your finger on the pulse of HR trends 2021 with the Assessment Systems team.