Soft skill training methodology and repertoire
Training and Development
The soft skills can make or break our career, no matter our IQ or our hard skills. Soft-skills can´t be replaced by machines and they are the powers that help us overcome the problems and crises. That´s why they are the key to success of any company in todays´ dynamic and changing world.

By means of our tools we help you our clients understand what your employees and leaders need with regard to your strategical objectives. Based on these discoveries our consultants and trainers design suitable trainings and programs for your company.
We build our development programs and trainings on:
Expertise and latest findings
in psychology, sociology, leadership theories and research
Our own successful experience
from strategic management positions
Practical, businesslike approach
prioritizing hands-on experience and interactive sessions, where sharing among the participants is encouraged
Approach allowing
to learn and practice over a longer period, including blended learning
The ultimate objective of any developmental activity we provide is to increase a level of self-management, building on three pillars: (self-)awareness, responsibility and self-confidence.
Self-management is a prerequisite to be engaged and empowered employee. Self-management is also a crucial competence of any leader.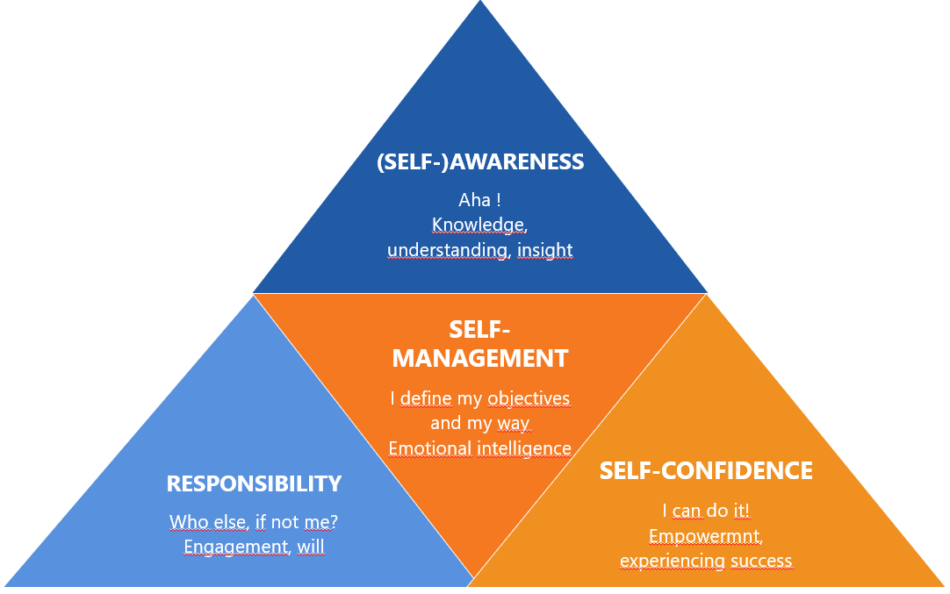 We can support you in an important change, cultural shift or transformation through our programs, such as Leadership Academy, Team Efficiency Booster, Future Talent Program, Wellbeing solution where long-term and blended approach are applied.
We can help you develop strategically crucial skills of your employees by means of one-shot trainings, blended learning or micro-learning in following areas:
Personal development
Interpersonal skills
Leading a team
HR skills
Haven´t found the training you have been looking for? Tell us about your needs and our team will create it for you!
Contact us