Digitalize your selection and development processes.
Business simulation

What is a business simulation powered AC/DC?
A Business Simulation is a cloud-based application that gives a lifelike environment where participants can make managerial decisions at virtual enterprises and see consequences of their decisions.
Evaluating job-fit in a simulated environment is a risk-free approach and also allows reiteration of the situation with alternative approaches. This is where business simulation powered assessment and development center can outstandingly help to observe the required competencies.
The solution has several gamification elements (e.g. leaderboards, badges, instant feedback messages) that are designed to increase a continued engagement of the participants.
What are the characteristics of business simulation AC/DCs?
Individual or group assessment
How does business simulation AC/DC work?
The simulation provides a lifelike, but fictional business environment to the whole assessment setup, where all the other (more traditional) exercises, such as role plays and presentations, are set in this fictional environment.
The idea of a coherent business framework makes the whole assessment procedure more realistic and relevant for candidates or participants.
The course of business simulation during AC/DCs
Act as a manager
Analyze business numbers
Make periodic business decisions
Make ad-hoc role-related decisions
Track and react to the consequences of your decisions live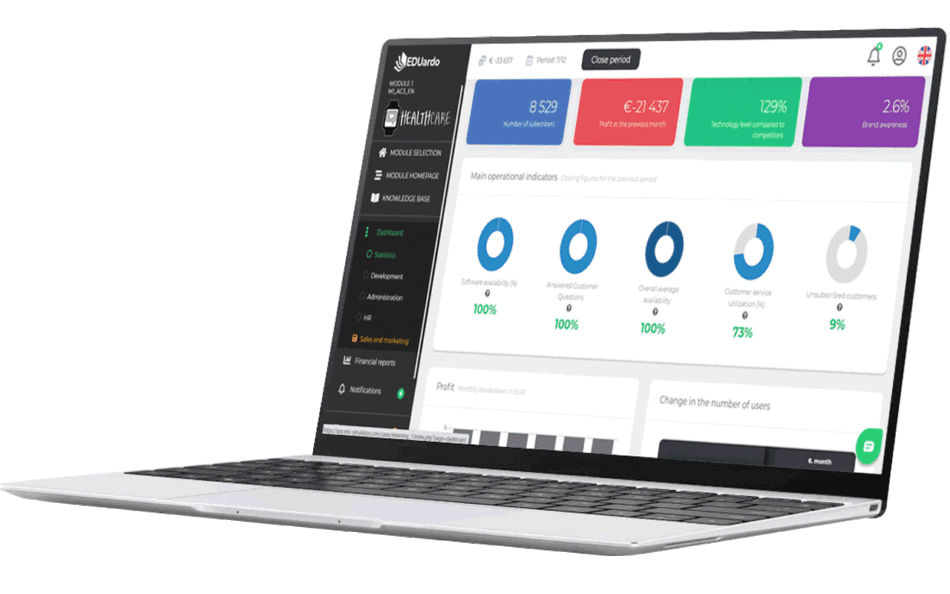 What are the characteristics of business simulation AC/DCs?
Innovative
Accessible online with little equipment required.
Paper-free
Business simulation provides all the information needed.
No-test behaviour
Participants forget about being observed and act authentically.
Flow experience
Due to gamified environment, participants get into FLOW state.
Engagement
Simulation results in better candidate experience and better employer branding.
Comparability
Several individual participants' performance and competencies can be compared.
Find out more and request your free DEMO!
Examples for observable competencies:
Strategic thinking
Analytical thinking
Risk-taking
Business Acumen
Financial Acumen
Customer-focus
Adaptivity
People management
Time-management
Decision quality
Priority-setting
Drive-for results
Goal-orientation
Digital savvy