Arnold
Arnold – Reinvented employee surveys
Run employee surveys effortlessly and deliver results to the right people instantly. Give your team leaders more insight into their teams and help them grow as managers. Support your top management in making better decisions.
Arnold is a conversation robot designed for online employee surveys and communication with employees. Arnold will make employee surveys more meaningful for HR, managers and employees.
Make yout employee surveys more meaningful and engaging
Online surveys for smartphones or desktops
Short conversations – meaningful data
Actionable online reports
Increased response rate
Use Arnold to have regular conversations with your employees, collect and deliver that feedback into actionable reports.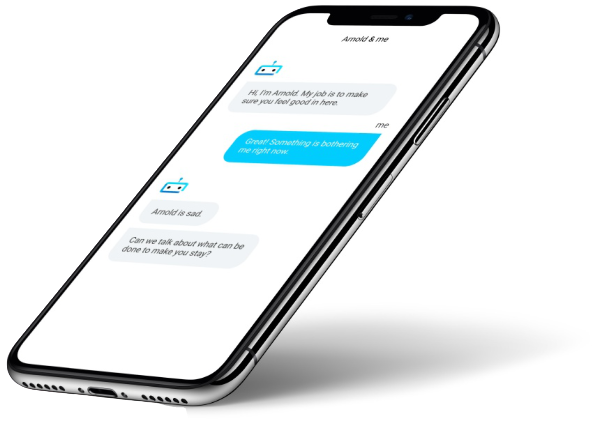 Benefits of Arnold employee surveys
Improve survey response rate
because Arnold is quick, engaging and employees like it. The usual response rate is between 70-80%.
Help managers better lead their team
because they can see the results for their own team in a matter of days with understandable actions to be taken.
Help HR create a better workplace
because the innovative surveys collect meaningful feedback on what what employees think and feel. Helping HR act quickly.
Help top managers make better decisions
because they have real time data for the entire organization as well as individual teams.
How does Arnold work?
Arnold is fully online and works in every web browser on your computer and mobile phone.
Arnold contains 25+ conversation topics which you can select and schedule as needed.
Arnold connects with each employee and has a short conversation with them.
Managers receive their team's results in one day. Arnold sends the reports himself.
HR and management get the summary results for the organization.
Good to know about Arnold employee surveys
Employees love Arnold surveys
One conversation takes up to 5 minutes
Results are quick to read, it takes less than 5 minutes
Every Team Leader in your organization gets a dedicated report
Results arrive quickly after collection
Arnold surveys are designed to have an impact
You can select the topics to discuss
Arnold surveys are GDPR compliant
You can select from 7 languages